EROSANTORINI OFFER 
30% OFF YOUR EXCLUSIVE SANTORINI STAY

An exquisite choice for those wanting to combine a quiet haven with an exquisite and sought after beach destination, the remarkable Erosantorini is offering Escapes clients 30% off standard rates, valid for the exclusive & private use of the estate. Offer valid until further notice on stays until 31 October 2020.
ABOUT EROSANTORINI
Escape to your home away from home. Set elegantly on a breath-taking hilltop above the serene Aegean Sea, prepare to be welcomed like family and pampered as a cherished guest in total privacy. With never-ending views and unprecedented privacy, EROSANTORINI—an exclusive-use Estate on two glorious cliff-top acres—offers a bespoke retreat for up to ten adults and four children, with seamless, anticipatory service provided by a dedicated on-site team, consisting of a host, chef, bartender and travel concierge to tailor make your experiences in the area.
The best of Greek gastronomy, made to order and prepared with the freshest homegrown ingredients. A wealth of activities, onsite and off, curated to suit your moods and interests. And a blissful immersion into the best of Aegean island life, at once lavishly warm and exquisitely simple.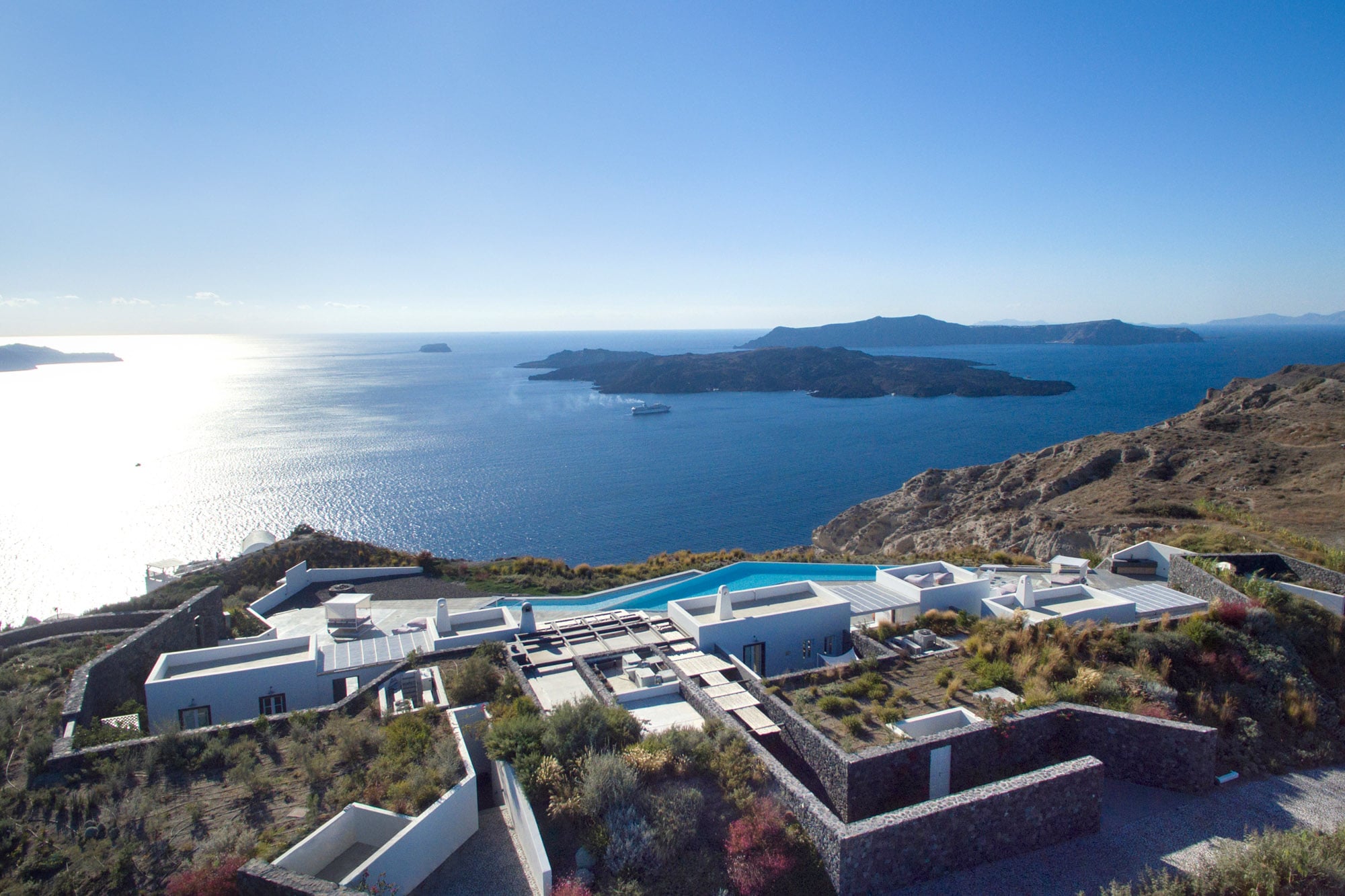 GASTRONOMY AT EROSANTORINI
Expect nothing less than high-quality products provided by qualified staff in your own personal luxurious and comfortable estate. The team consisting of chefs and assistants, who will create the most innovative and authentic menus to suit every requirement and individual taste.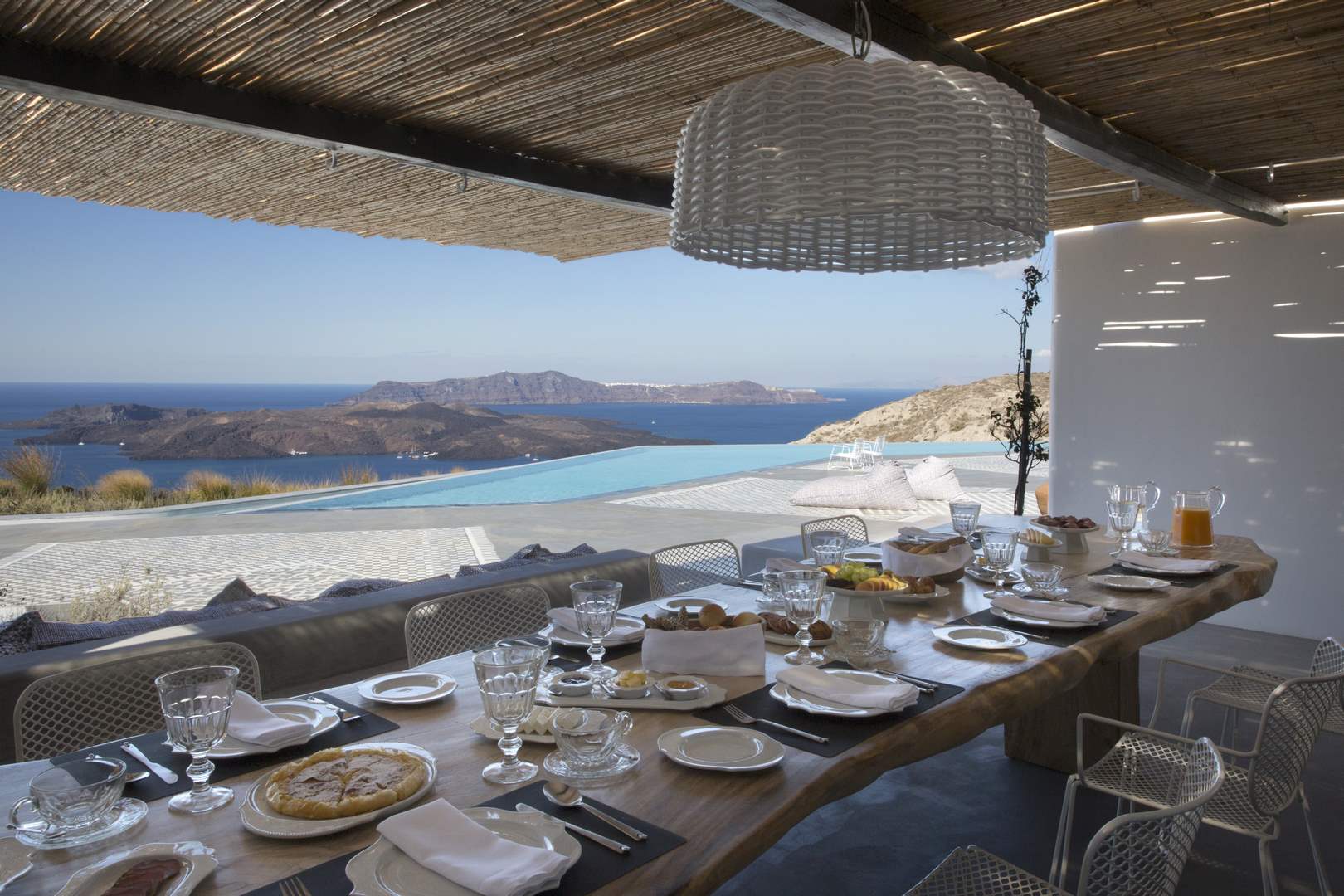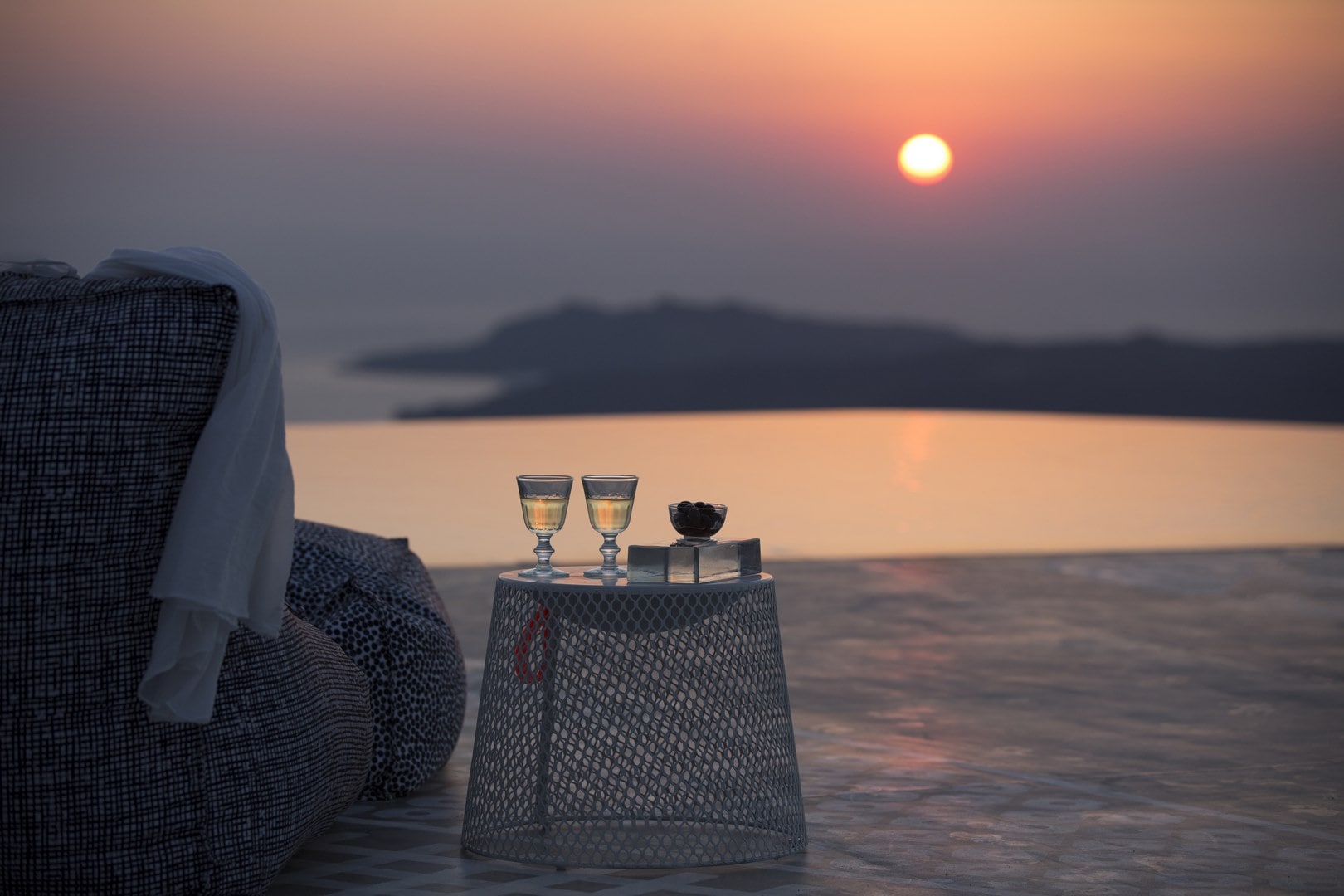 ACTIVITIES AT EROSANTORINI
A variety of activities available that are specially curated for adult and kids. From private luxury yacht and diving trips escorted by an experienced dive guide and instructor, to swimming in your private estate pool or watching a movie outdoors while admiring views of the stunning sunset.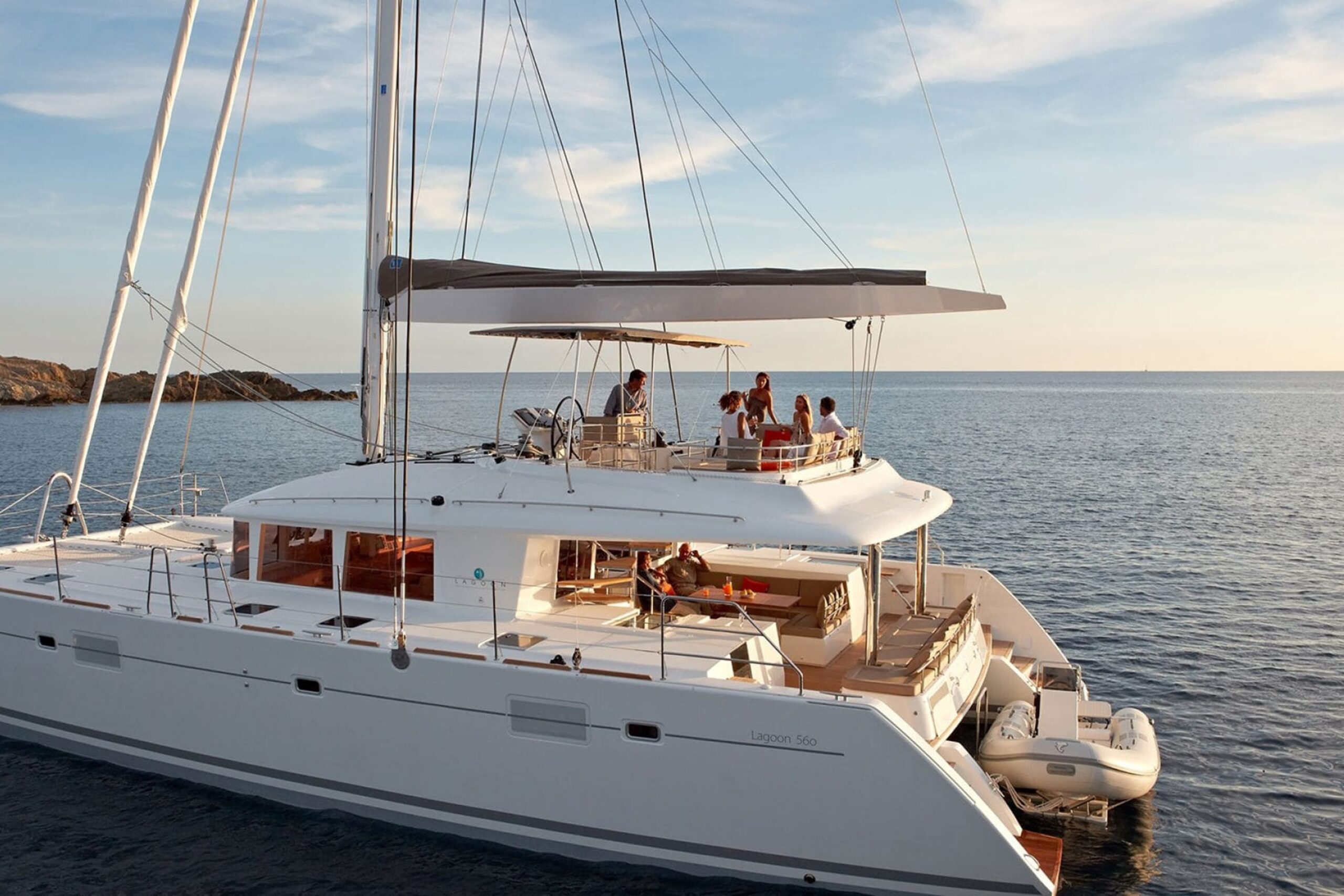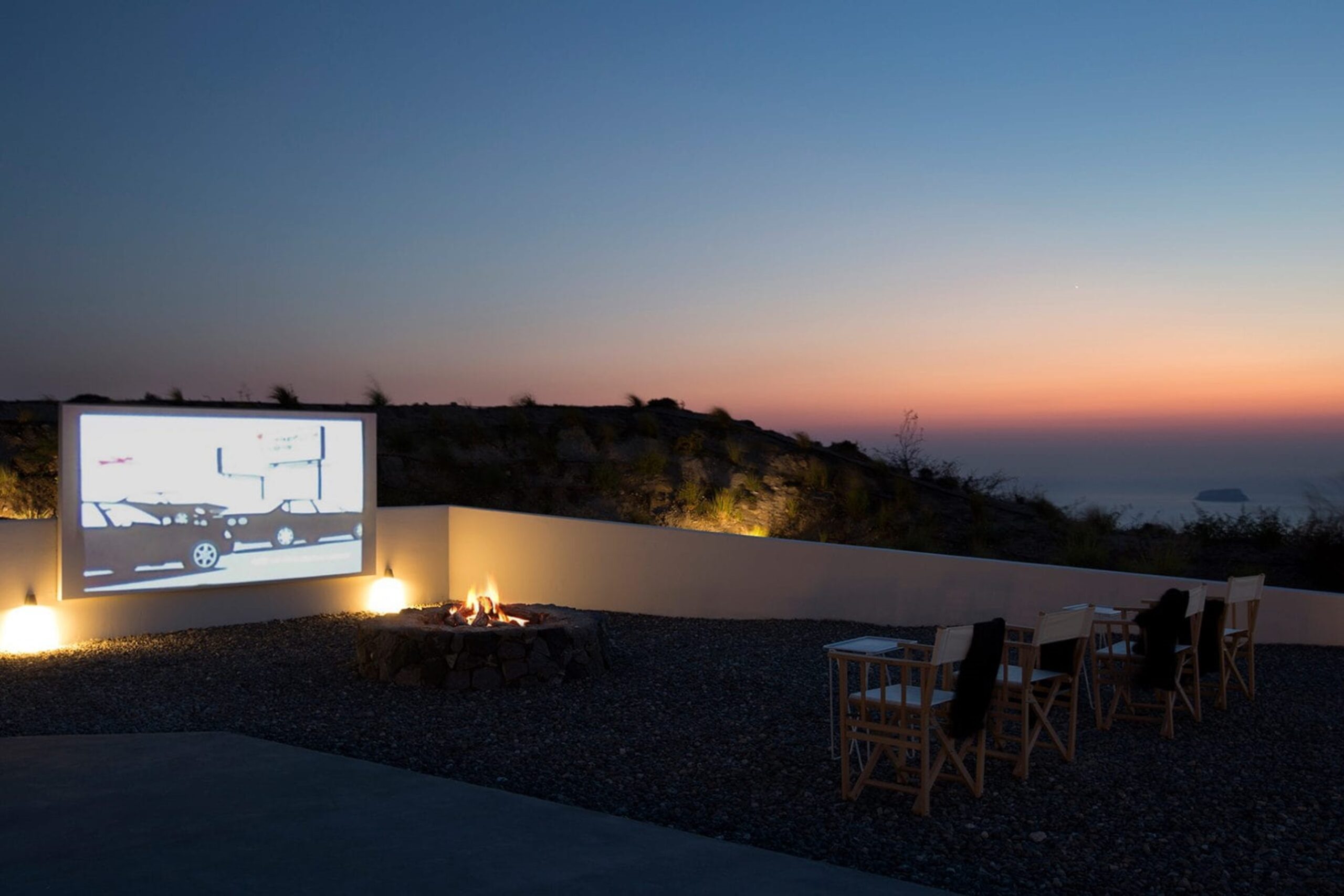 EROSANTORINI FACILITIES
Infinity pool
Outdoor cinema
Spa
Cliffside fire pit
Chapel
Wine cellar & cocktail bar
Outdoor kitchen & dining area
Serenity cave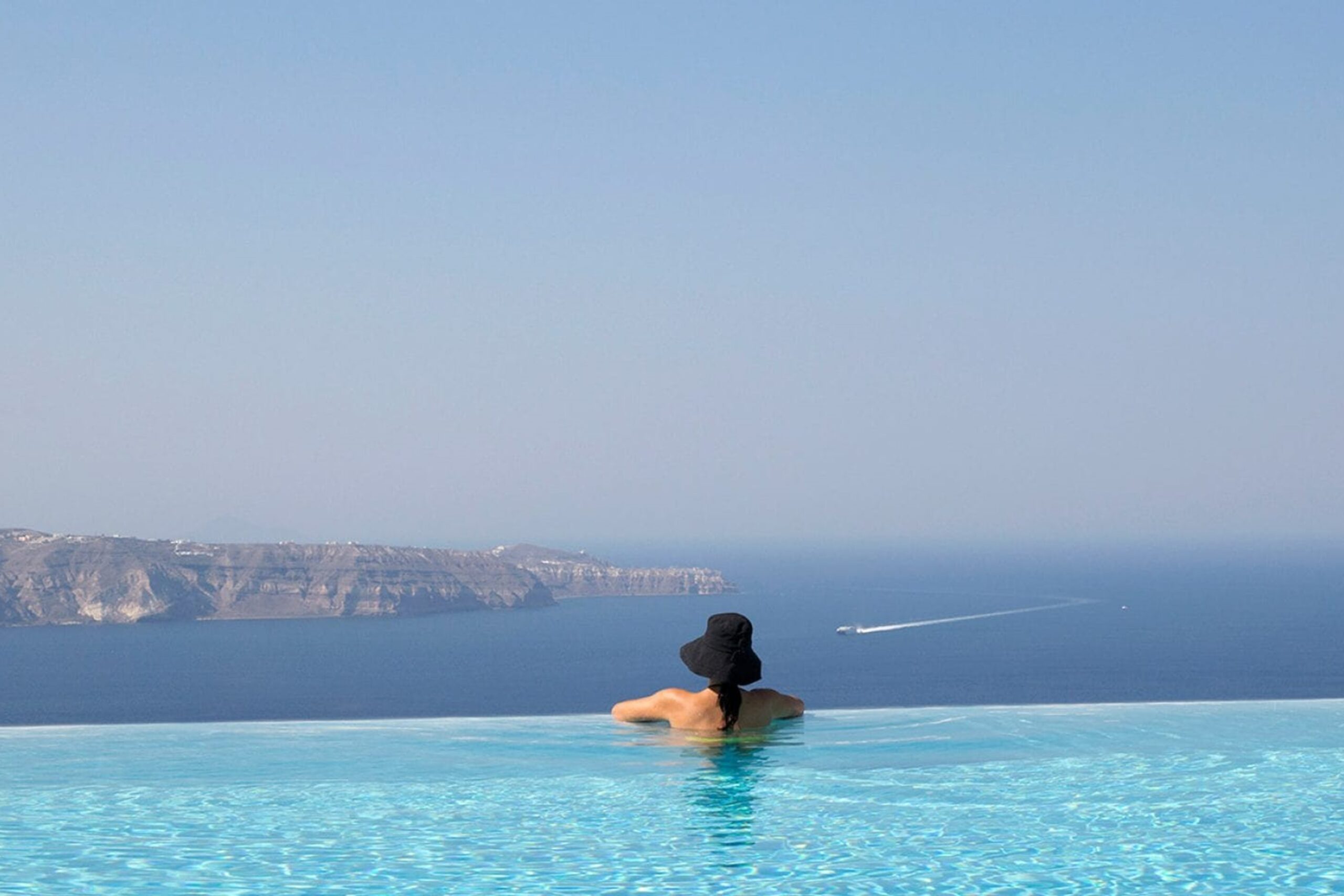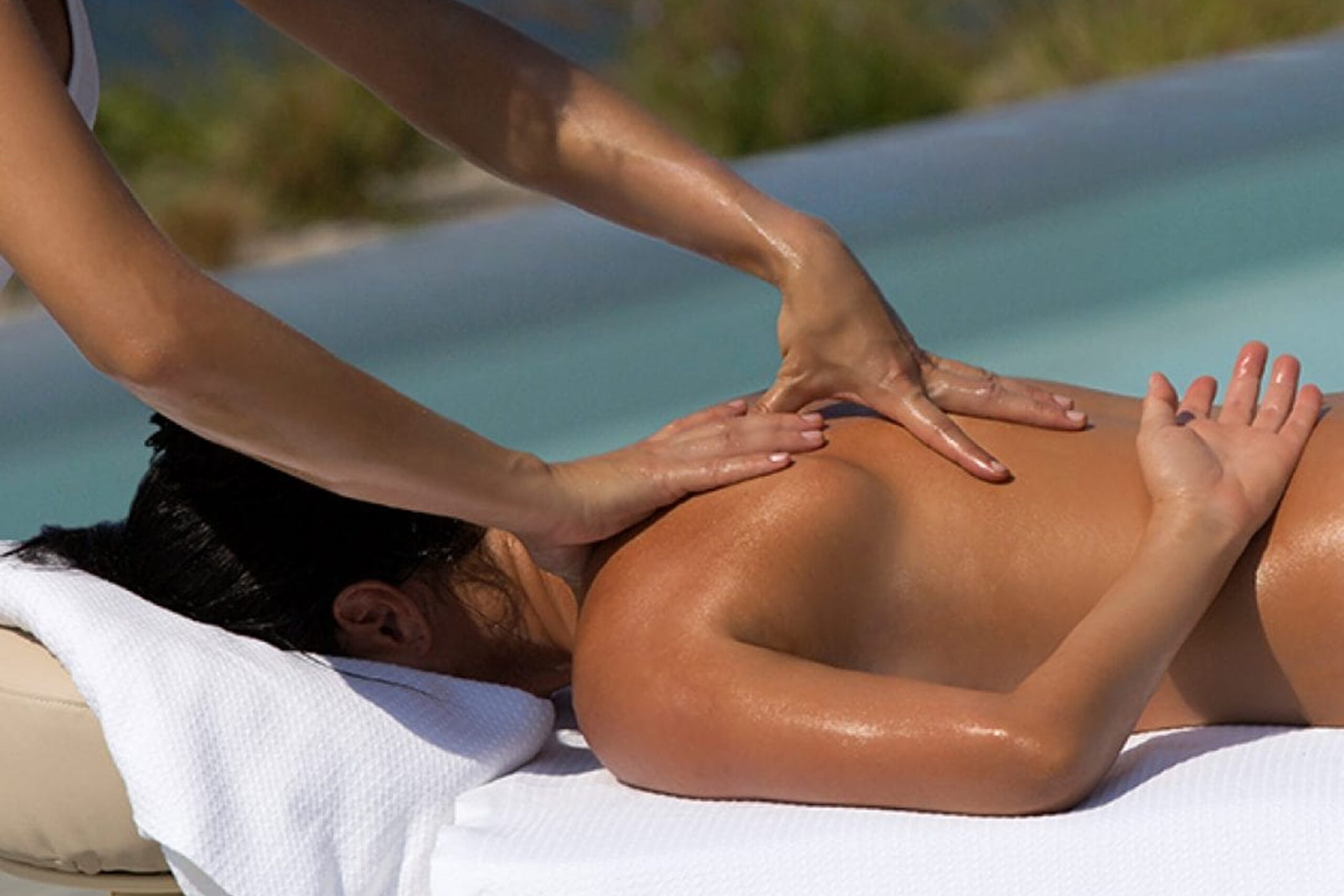 EROSANTORINI SUITES 
The Estate's five private suites are designed to host up to ten guests, while families are very welcome and can be comfortably accommodated. All suites are carefully designed to show off the glorious views no matter where you are. Flexible living spaces are easily transformed into common areas, allowing for the optimum enjoyment of the exquisite property and grounds.
In and around each airy suite, guests experience exquisite touches of tasteful luxury, including marble bathrooms with radiant-heated floors, fireplaces magically suspended from the ceiling, stunning bath fixtures and the finest linens.
Three suites feature varied one-bedroom layouts, with easy open floorplans and gracious indoor and outdoor living areas that are easily adapted according to your specific needs. A separate two-bedroom bungalow, adjacent to the Estate's spa facility, offers even more flexibility to suit your needs.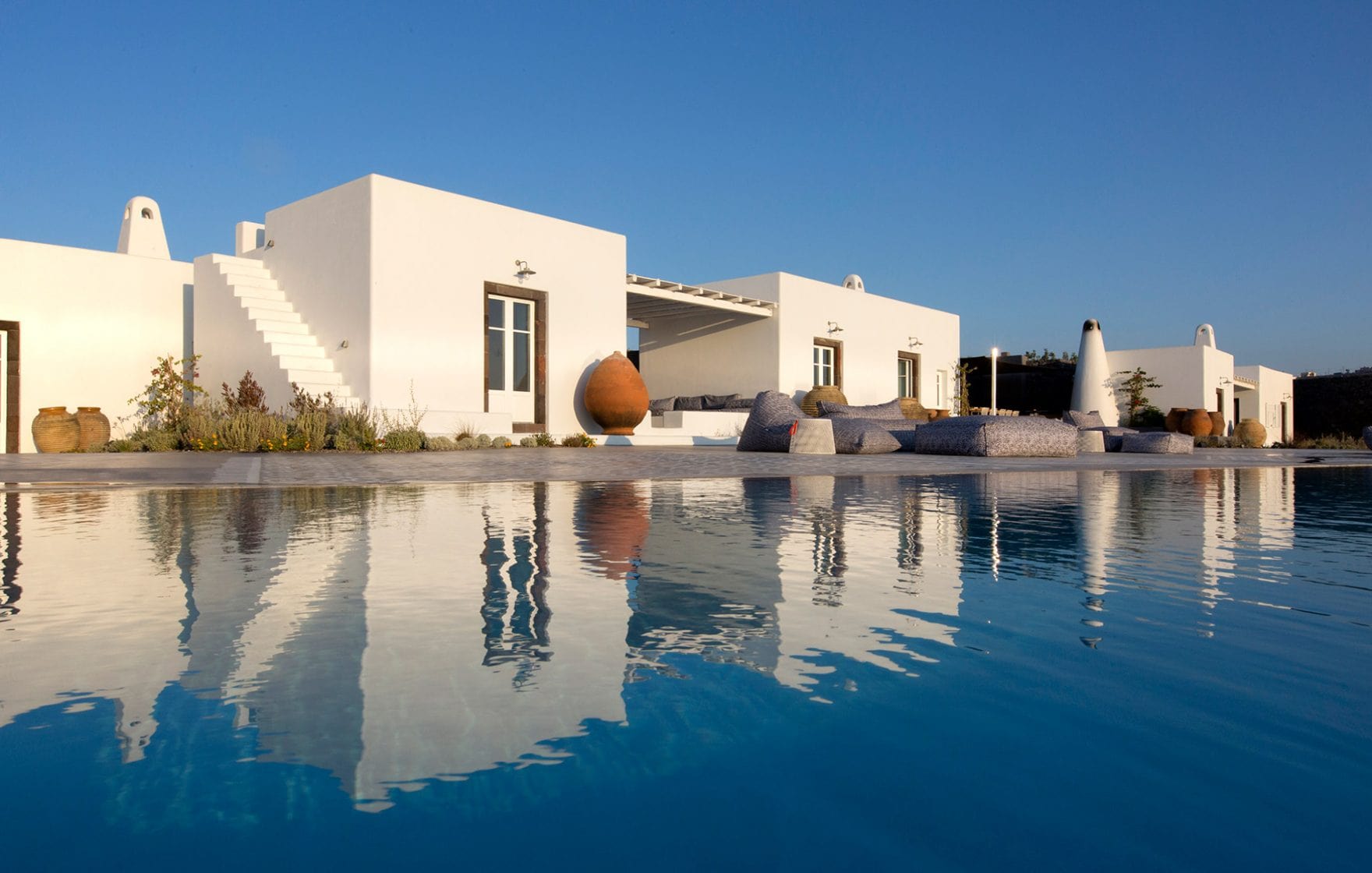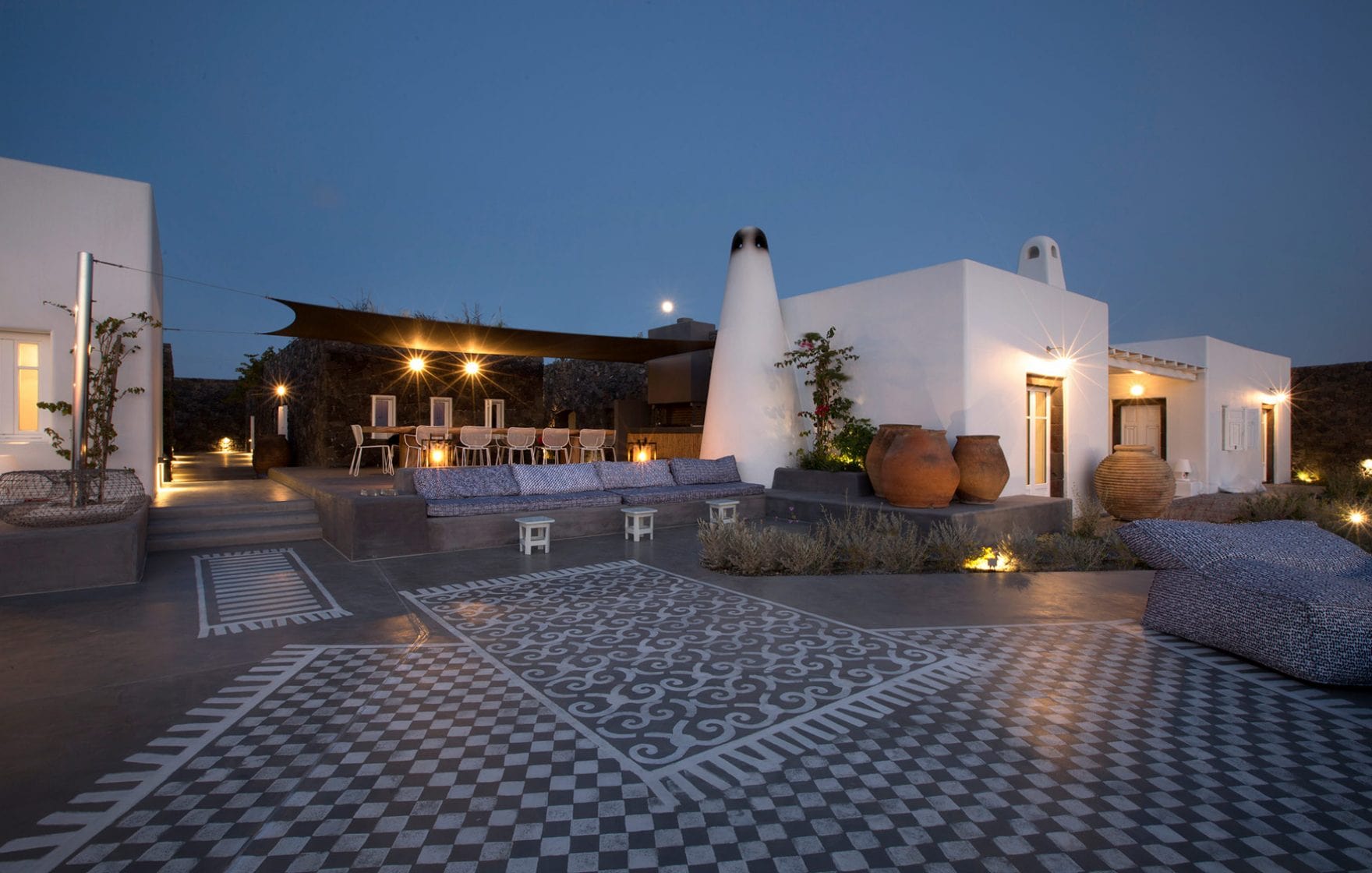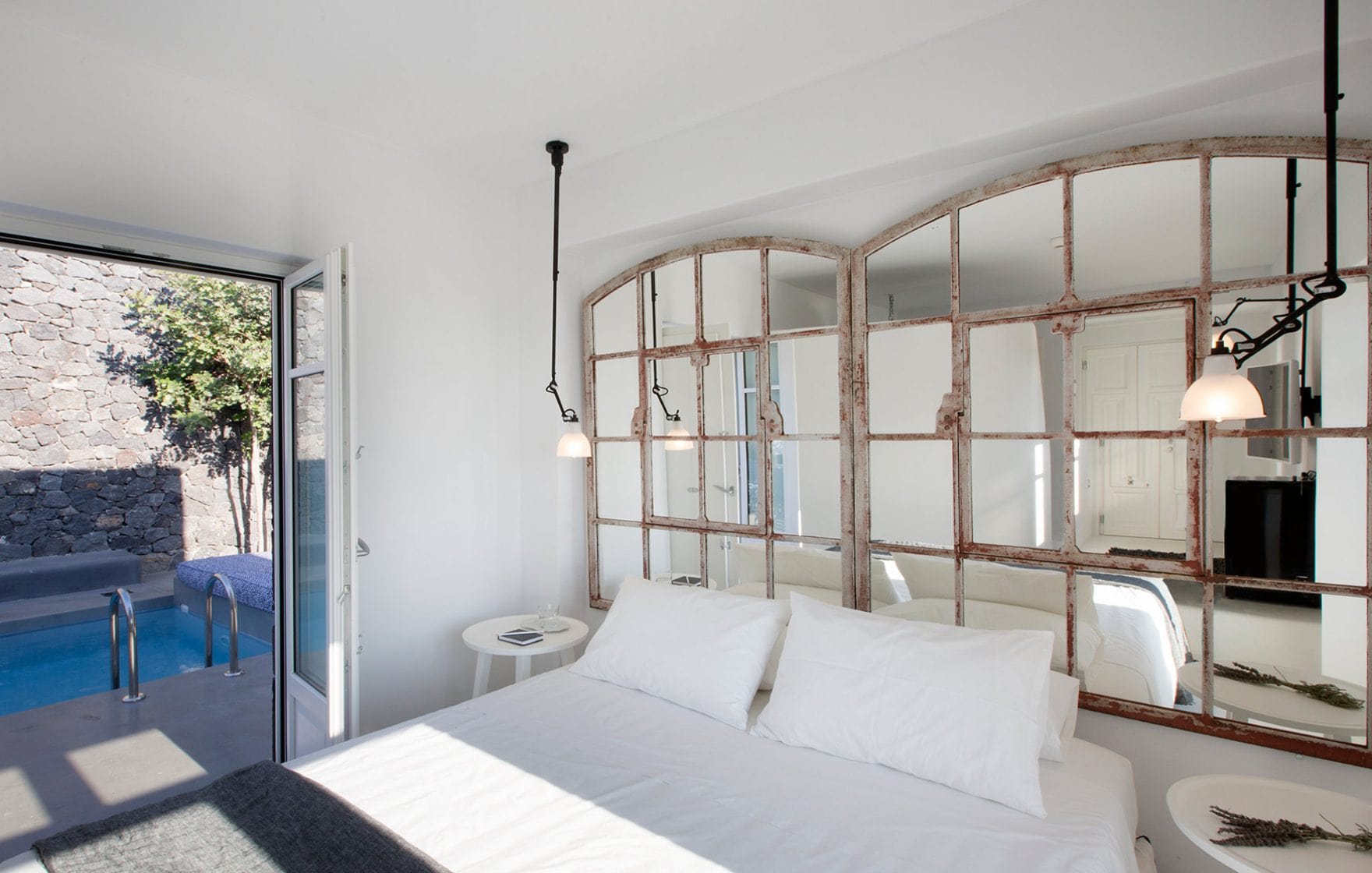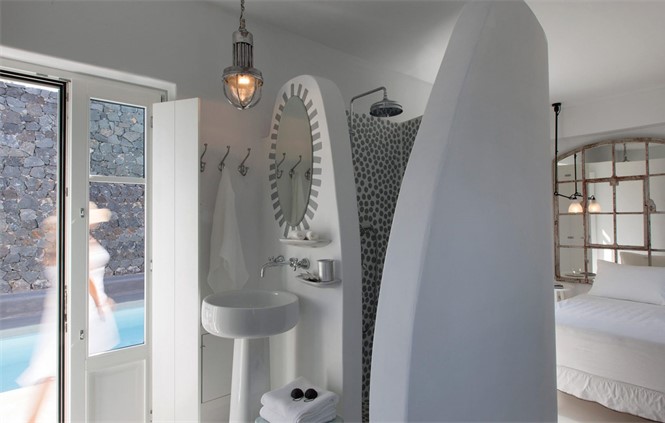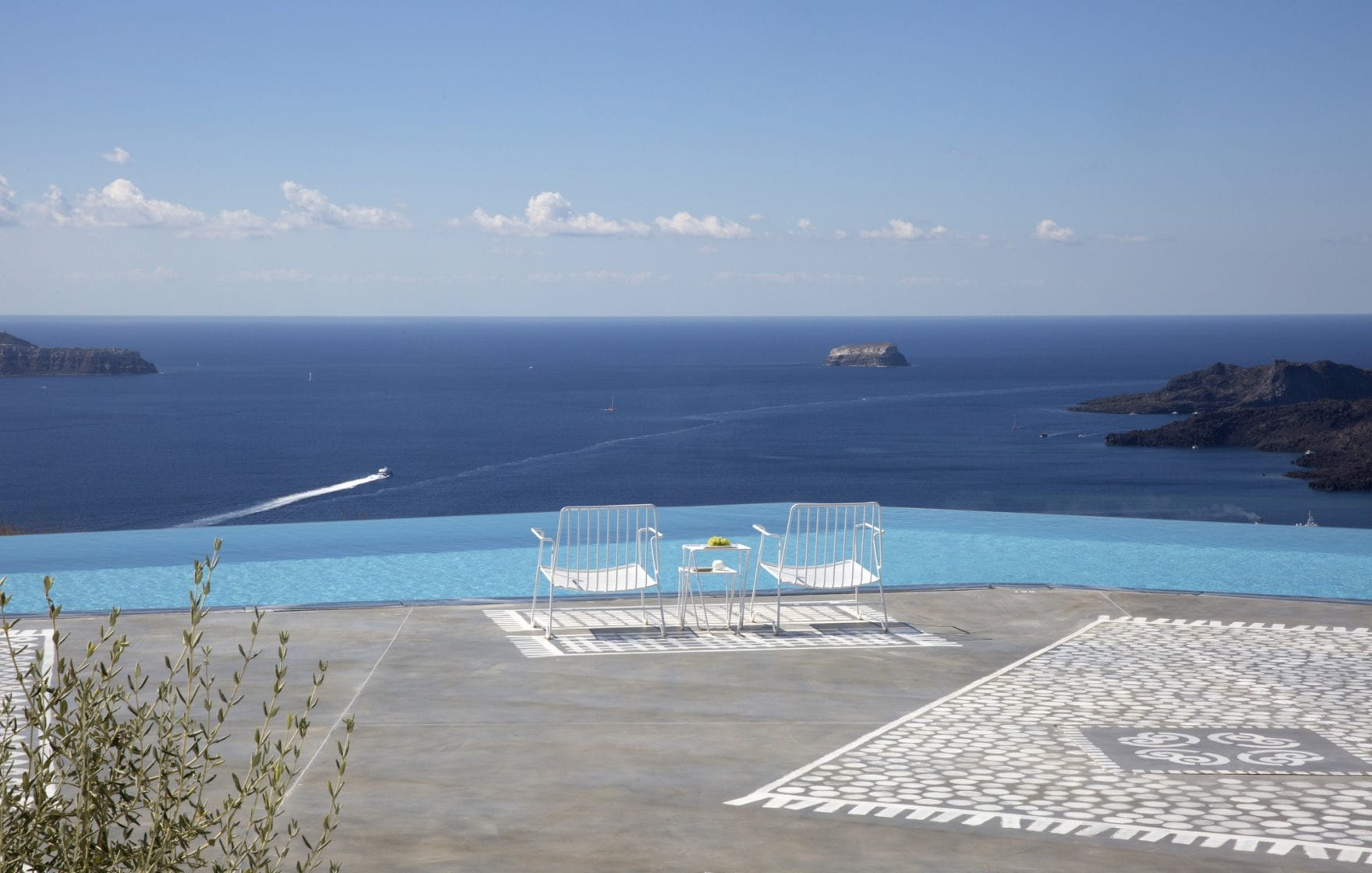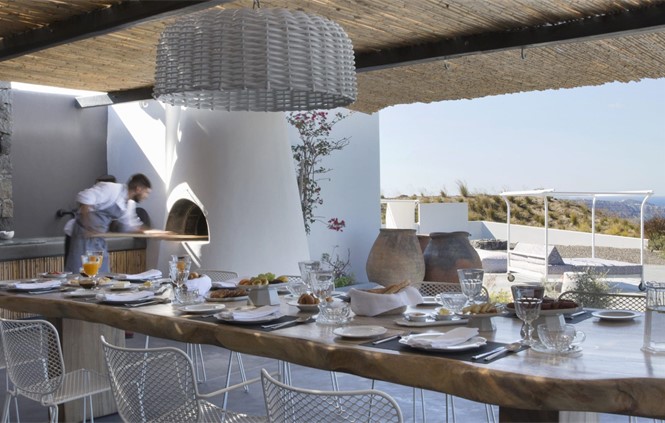 Experience the luxury of handcrafted travel. Embark on a series of exclusive memories where every detail is curated to your individual desires.